Nestled quaintly on Roxbury Drive is the narrow brick building where Dr. Stuart Kaplan has been helping thousands of patients achieve healthy, beautiful skin for over 30 years.
A Beverly Hills icon, Dr. Kaplan's expertise in medical and cosmetic dermatology has made him one of the leading dermatologists in the nation, and has earned him recognition as a Skincare Authority for celebrities, models and beauty icons all over the world.
As an anti-aging expert, Dr. Kaplan teaches that it is not just the eyes that give away a person's age, but the lips as well. Starting in our late 30's, our skin begins to slow the production of collagen and hyaluronic acid, causing the skin to thin and lose moisture retention. The result is visible fine lines and wrinkles, dry skin, and for lips, a flatter lip contour.
One of the most requested cosmetic procedures at my Beverly Hills clinic is lip injections. I often have to educate my patients that it is not bigger lips they want, but a more refined lip contour. I inject filler along the lip line so the tip of the lip points upward. It's what I like to 'the ski slope of youth,'" says Dr. Kaplan.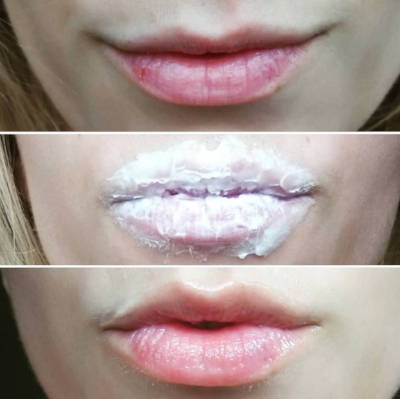 But with a three month waiting list at his office, Dr. Kaplan wanted to create a product that his patients could use at home, both as a natural alternative to lip injections AND as a way to help make their lip injections last longer.
The result is KAPLAN MD Perfect Pout Duo ($24), a multi-active 2-Step Lip Regimen that exfoliates dry chapped skin, replenishes moisture and plumps fine lines and wrinkles around the mouth, either eliminating the need for expensive filler and laser treatments altogether or prolonging their results.
The revolutionary cream-gel Perfect Pout Lip Mask replaces harmful, drying lip scrubs by using powerful fruit enzymes to gently dissolve dead, flaky skin on the surface of the lips. High and Low Molecular Weight Hyaluronic Acid and Hyaluronic Filling Spheres deeply hydrate lips at the surface, while also swelling with moisture for enhanced lip fullness.
Then to further nourish and protect the lips, Dr. Kaplan created his Ultra Hydrating Perfect Pout Lip Balm to hydrate, nourish, repair and protect with SPF 20 sun protection - all in one.
The KAPLAN MD Perfect Pout Duo combines the Perfect Pout Lip Mask and Lip Balm for a concise, simple lip transformation at home. The result is smoother, fuller, more beautiful lips – naturally.
The KAPLAN MD Perfect Pout Collection is available at the Beverly Hills Hotel Spa.