Sep, 06
Who says good skin has to be complicated?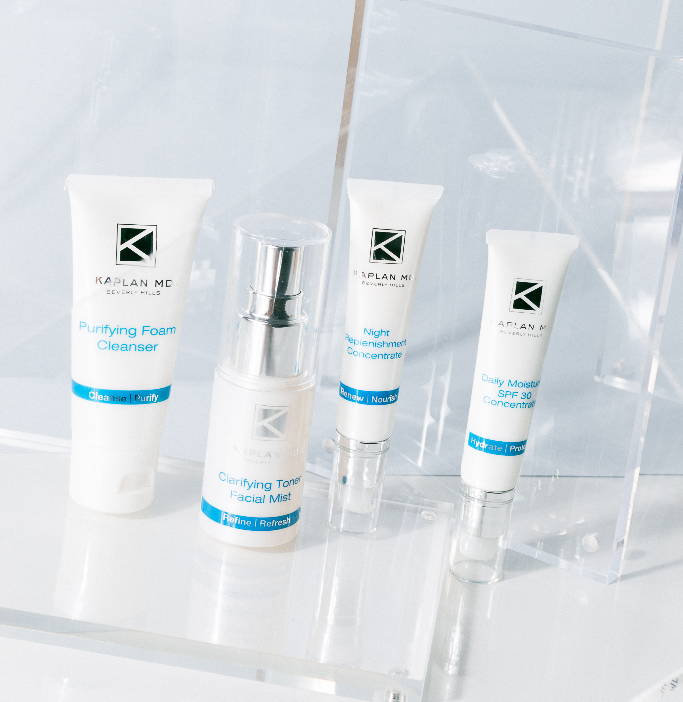 Not us.
Dr. Kaplan's "Flawless Face" is a simple and concise skin care regimen consiting of 4 everyday essentials to reduce fine lines, combat free-radicals, balance uneven skin tone and protect against premature skin aging. The result is healthy, radiant, beautiful skin - effortlessly.
Begin by cleansing your face with the Purifying Foam Cleanser.
Our ultra-gentle, sulfate-free gel cleanser that thoroughly cleanses the skin without stripping the skin of essential moisture.
---
After cleansing, balance your skin's pH with the Rosewater and Salicylic Acid infused Clarifying Toner.
Skin with unbalanced pH can range from dry and tight to very oily, so following with an alcohol-free toner is an essential step for healthy skin,
---
Step 3 (AM):
P R O T E C T
Next, moisturizer and protect the skin from sun damage with the Daily Moisture SPF 30 Concentrate.
This lightweight, multi-action moisturizer combats free radicals, reduces fine lines and wrinkles, and provides SPF 30 sun protection – all in one. A unique combination of patented peptides, antioxidants and plant stem cells work to provide all day hydration while giving skin a beautiful, radiant glow.
---
Step 3 (PM):
R E J U V E N A T E
At night, deepy hydrate your skin with the Night Replenishment Concentrate, a luxurious nighttime treatment that helps reduce fine lines and wrinkles, while quenching the skin with critical moisture. Patented DNA Technology, along with patented peptides and organic plant extracts work in harmony with the body's natural healing process during sleep to replenish, rejuvenate and revive the skin.