Introducing our NEWEST ARRIVAL...the Flawless Face Everyday Essentials!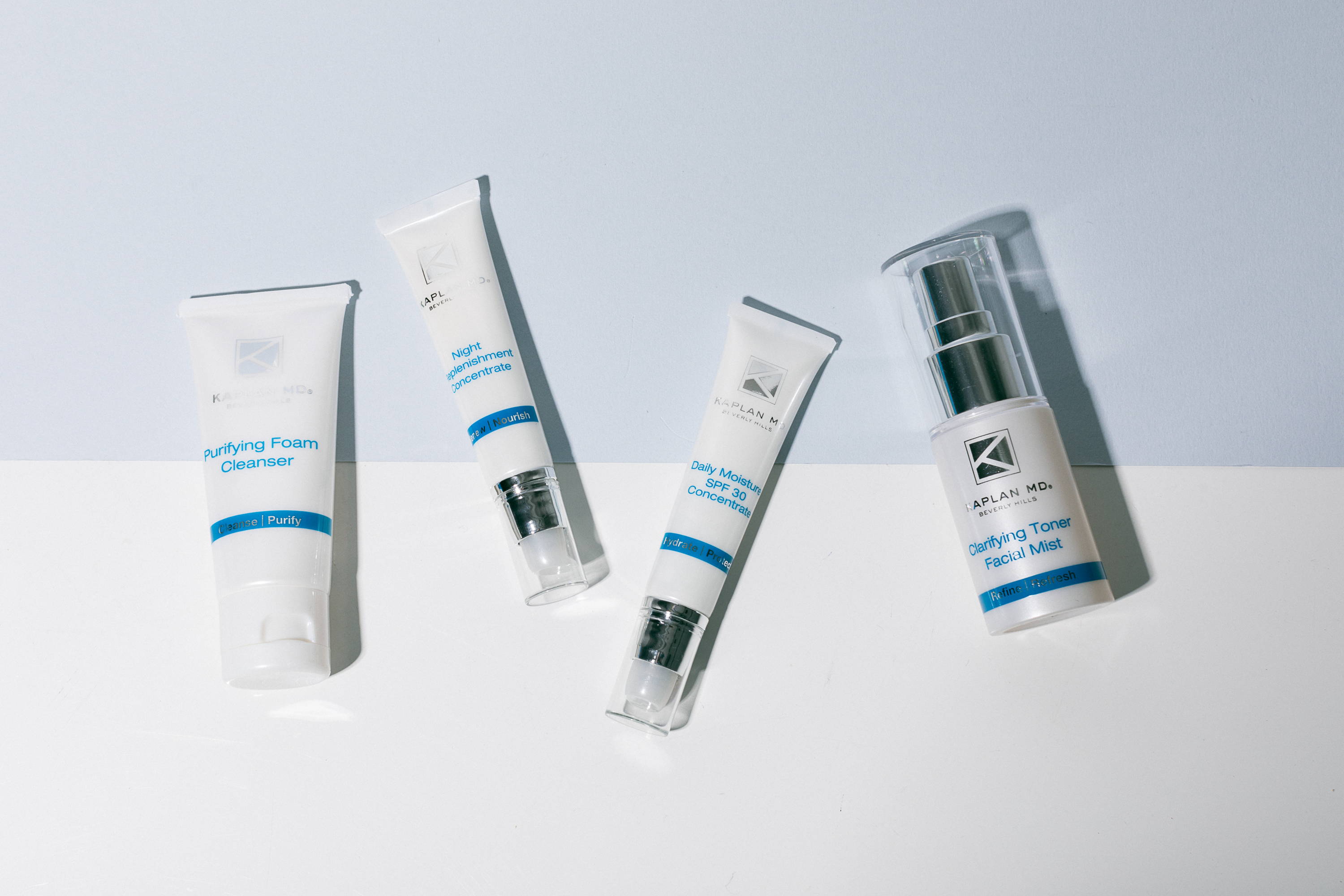 Dr. Kaplan believes that true luxury is taking the best solution, and making it simple. It is this philosophy that led to the creation of KAPLAN MD's best-selling skincare products that deliver healthy, radiant, beautiful skin.
Flawless Face Everyday Essentials Collection is a concise, multi-active skincare routine that truly delivers anti-aging results. Formulated for all skin types, and now available in a convenient Discovery Kit.
Each product in this collection features unique and powerful combinations of patented peptides, antioxidants and organic extracts for a flawless, glowing complexion. This Discovery Kit is perfect for travel and gift-giving!
Flawless Face includes Travel-Friendly sizes of the following 4 skincare essentials:
Purifying Foam Cleanser (1.3 oz)
Gentle, sulfate-free gel cleanser that thoroughly cleanses the skin without stripping the skin of essential moisture. Formulated with Panthenol, Ginger Root and 22 Certified Organic Extracts to provide a nourishing skin cleanse.
Clarifying Toner Facial Mist (1.3 oz) 
Refreshing Rosewater infused facial mist that tightens pores and refines skin's texture, while balancing skin pH. Doubles as a make-up setting mist to blot excess oil and give skin a soft, dewy finish.
Daily Moisture SPF 30 Concentrate (0.5 oz)
Lightweight, multi-action moisturizer that combats free radicals, reduces fine lines and wrinkles, and provides SPF 30 sun protection – all in one. A unique combination of patented peptides, antioxidants and plant stem cells work to provide all day hydration while giving skin a beautiful, radiant glow.
Night Replenishment Concentrate (0.5 oz)
Luxurious nighttime treatment that helps reduce fine lines and wrinkles, while quenching the skin with critical moisture. Patented DNA Technology, along with patented peptides and organic plant extracts work in harmony with the body's natural healing process during sleep to replenish, rejuvenate and revive the skin. Skin is visibly smoother and softer, for a more luminous, healthy complexion.
I have spent my entire medical career helping patients achieve healthy, beautiful skin. My approach to skincare has always been about sourcing the highest quality ingredients, combining them into simple, all-in-one solutions, and formulating with integrity.
- Stuart H. Kaplan, MD,
Creator & Founder of KAPLAN MD Skincare