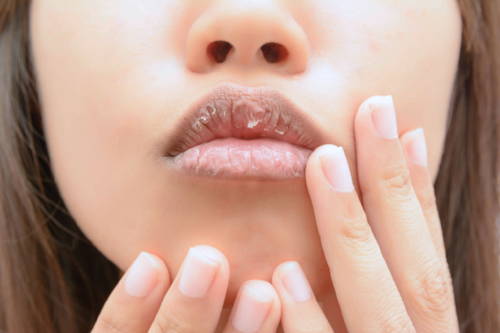 There are plenty of good things that come with colder weather - cozy knits, warm wood fires, soul-healing soups, and the Holiday season.
Unfortunately, cold weather can also bring on some skin woes as well - the most persistent being flaky, chapped lips. Here's why this unsightly problem rears its ugly head during winter and how you can keep your pout soft and supple all season long.
The skin is our body's largest organ, consisting of multiple layers. The skin on our lips is a mucous membrane, and is much thinner and more sensitive than other parts of our bodies. This means that the lips aren't offered much protection against the onslaught of cold, dry air that comes with chilly winter weather. Unlike skin on other parts of our bodies, lips don't contain oil-producing glands that can help keep them moist, and they also don't have hair to protect them from the sun. Also, due to their proximity to the tongue, they're also exposed to saliva, which leaves lips even more dry as it evaporates.
To prevent chapped lips, your best bet is to keep your lips moisturized with an ultra-hydrating balm with SPF to protect from sun damage. Drink plenty of water to keep your body hydrated from the inside out. Steer clear of too much salt, and try not to constantly lick your lips.
If your lips are looking rough already, treat them to an exfoliating lip mask to slough off dead skin and deeply moisturize.

We recommend: Perfect Pout Duo, $24