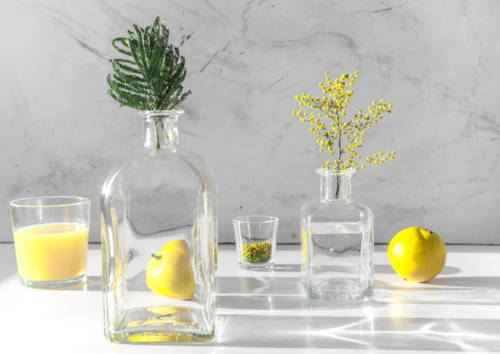 Like bringing up politics at your in-laws' dinner table or wearing closed-toe shoes right after a pedicure, there are some things you just shouldn't mix together. And that goes for skincare too. Certain ingredients do not play well together — one product could cancel out the other's effectiveness, or worse, seriously irritate your skin. While a few popular power-players shouldn't be combined, other ingredients can actually boost each other's efficacy. Follow our rules below for a supercharged skincare routibe that'll leave your skin gorgeous and glowing rather than red and uncomfortable.
1. Retinol and Vitamin C: Combining these two all-stars won't necessarily harm your skin, but it's best to avoid it if possible. Vitamin C can become inactive with small variations in a solution's pH, like when you add retinol into the mix,.
2. Benzoyl Peroxide (BPO) and Hydroquinone: These ingredients are not buddies on your skin's playground. "Using BPO, a popular treatment for acne, is essentially like dropping a bomb to eradicate any p. acnes bacteria on your skin," says Dendy Engelman, an NYC-based board-certified dermatologic surgeon. "Hydroquinone, on the other hand, is a skin lightening agent that's used to reduce pigment in your skin, and when you toss these two very potent 'bleaching' compounds together, it can cause hypopigmentation."
3. Vitamin C and AHAs: "When vitamin C and AHAs (like glycolic, lactic, or malic acid) are used in conjunction, they cancel out the effects or can be irritating on the skin," Engelman says. "Vitamin C acts as an antioxidant and AHA chemically exfoliates, so together, these acids can destabilize each other."
4. Retinol and Acne Treatments: With the exception of the prescription acne gel Epiduo (which is specifically formulated to co-exist with retinol), "BPO and retinoids should not be used together since they deactivate each other, rendering the retinoid ineffective," explains Engelman.
...and here are ingredients that will work best when your pair them together:
1. Vitamin C and Sunscreen: "Antioxidants, like vitamin C, work to neutralize free radical damage from sun exposure and environmental aggressors, while sunscreens work to deflect (if you're using a physical one) or absorb (if you're using a chemical one) damaging UV rays, offering maximum protection against cell damage," says Engelman.
2. AHA/BHAs and Ceramides: "While AHAs and BHAs (like salicylic acid) help to remove the top layers of skin by weakening the lipids that bond them together (thus revealing healthy skin cells), ceramides help to restore the skin by holding the cells, locking in moisture, and acting as a barrier against pollution and bacteria," says Engelman. Which means applying ceramide-rich formulas really helps hydrate and strengthen skin.
3. Retinol and Hyaluronic Acid: "Retinoids help to accelerate cell turnover by pushing younger cells to the skin's surface, and although they're a fantastic anti-ager, they can be irritating and induce desquamation (or skin peeling)," explains Engelman. On the other hand, "[hyaluronic acid (HA)] helps to hydrate the skin, combating both the irritation and peeling caused by retinoids."